Nintendo Wii Starter Bundles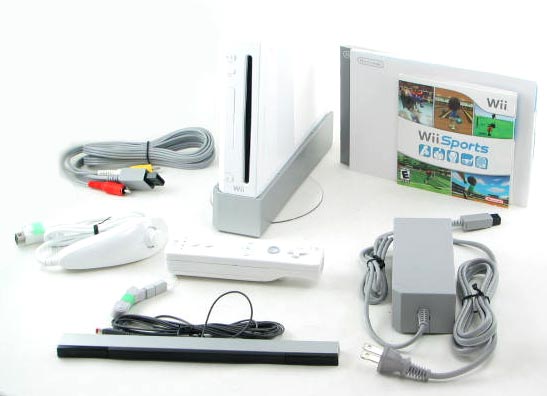 If considering purchasing a Nintendo Wii Gaming system for the family this holiday season, the most economical option for racking up lots of games in a wide variety of gaming formats is to research the Nintendo Wii Starter Bundle Packs available with the Wii system. Nintendo has done a fantastic job appealing to a wide variety of gamers and potential gamers by developing the Wii system, which in addition to offering every type of game from bowling to three dimensional combat battle, has also created specialized wireless remotes specific to particular games to enhance gameplay. For example, Mario Kart comes with a remote shaped like a steering wheel, Wii Fit includes a balancing board that you stand on to initiate player action, and of course Guitar Hero features a half-scale guitar shaped remote to bring out the air guitar player in everyone.
Wii Starter Bundles come in a variety of gamestyles, but all include the Wii console unit, one standard Wii wireless controller, Wii Sports (this is the standard game with every Wii purchase, no matter which bundle you select), the Wii game that is specialized to the bundle you selected and a specialized remote for enhanced gameplay with that video game. Ranging in price from $390 to $500, the Wii Starter Bundles are actually less expensive than purchasing the components separately.
Wii Standard Starter Bundle – Available for about $520
This is the original Starter Bundle available for Wii, and does a great job appealing to all kinds of gamers and drawing in new fans to the gaming world.
In addition to the Wii Console, the pack includes the Wii Sports game, Alien Syndrome, Showtime Boxing, M & M's Kart Racing, Chicken Shoot, Balls of Fury, Super Mario Galaxy, a Nunchuck Controller, a Wii Remote and a 1 GB Memory Card.
Wii Action Starter Bundle – Available for about $520
In addition to the Wii Console, the Wii Action Starter Bundle comes with Wii Madden 07, Wii World Series of Poker and Wii Super Monkey Ball. Also included are an Extra Wii Nunchuk Controller, a Wii Remote Controller, and a 1GB Sandisk Memory Card.
Wii Sports Starter Bundle – Available for about $385
For the sports fan, this Wii Starter Bundle includes, the Nintendo Wii Console, an A/V Cable, a Wii Stand, the Wii Sports game, a Nunchuk Controller and a Wii Remote. Also included is an extra Wii Nunchuk Controller, a1GB Sandisk Memory Card and the Wii Madden 07 game.